The stranger sharing the small private elevator looked a lot like Richard Gere.
"I'm Richard Gere," he said, extending his hand.
We were on our way up through tight security to the private rooms of "H.H." — His Holiness, the Dalai Lama of Tibet.
In polite conversation I told him that I had brought a friend of H.H.'s up for a visit. Gere asked who my friend was.
"Paul Stacy."
He grabbed my forearm.
"Tiny? From Boston? Is he here? Can I see him?"
---
For more years than some of us can compute, Paul Stacy, the giant of a man ironically called Tiny, was co-owner and master of ceremonies at Holden's Blue Plate bar on Route 122A. During the 70s, the Plate became a center of gravity for expatriate artists, musicians and seekers of good times. Tiny believed in people and he took chances. At least one generation of local bands owes a tithe to the Blue Plate for giving them their start.
The Plate also developed a minor national reputation. Wavy Gravy, the cosmic clown and voice of Woodstock, who recently ascended to ice cream flavorhood, wrote about Tiny and the Blue Plate in his memoirs Something Good for a Change. Therein he describes the Plate as housing "an assortment of redneck truck drivers mixed with a houseful of hippies and beatniks digging on Ginsberg or Guthrie [Arlo]."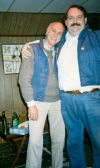 with Ram Dass
Ginsberg hasn't made the Plate yet — though he's still trying. Arlo Guthrie once tended bar there. Beat poet Lawrence Ferlinghetti gave a reading at the Blue Plate, qualifying the bar as a true Coney Island of the Mind. One magic night even found PBS host and New Age guru Ram Dass at the Plate. A psychedelic spiritual search light, he sat center stage on a bar-stool with a bottle of beer giving a two-hour rap about his adventures in inner and outer space. Before taking the stage he explained that so many people ask him to speak he had to refuse most engagements. "But," he said pointing to Tiny, "when that man asks, I don't question, I do it."
Gere met Tiny through their mutual interest in helping Tibetan immigrants escape genocide at the hands of the Chinese. A dear friend to many Tibetans, Tiny sold Tibetan rugs out of the trunk of his car to help support their cause.
This, like other post-Blue Plate aspects of Tiny's life, unfolded out of his friendship with Tibet's exiled spiritual leader Tenzin Gyatso, the Nobel-Peace-Prize-winning fourteenth Dalai Lama. Tiny, while struggling with drug and alcohol abuse, saw him speak in 1978.
"I was in the grip of the grape at the time," Tiny recalled in a recent hospital interview. "But I stayed sober. I stayed clean. I enjoyed very much being in his presence."
Two years later Tiny heard that the Dalai Lama was returning. "At that point I was suicidal. I called and volunteered my services. I told them I was a big guy and that I had been a bouncer for 25 years and I had had a lot of experience in crowd control and I would like to give him all the help I could." He landed the job of body guard in 1981, the same year he did security for Mick Jagger at Sir Morgan's Cove when the Stones appeared there as the Cockroaches.
The chance to work with the Dalai Lama changed his life. Tiny began cleaning up his act in earnest, checking into a New Hampshire hospital to dry out. It was there he began practicing meditation, going up to the top of a nearby hill and sitting by himself.
"That quiet time alone just with myself and my breath was very healing," he says. "I realized I needed to change my way of living, otherwise I was just not going to make it in this world."
For a man who had lived much of his life in an altered state, the idea of being straight was not exactly promising.
"I thought living life straight was going to be a drag. It would be no fun. I figured [the Tibetan Buddhists] could teach me how to make the best of a bad situation— living straight. As it turned out, it was much better than living life the way I had been living it."
Six weeks after leaving the hospital, Tiny went to work for the Dalai Lama. By the end of that first ten-day session the two men had begun to develop a personal relationship.
"We were coming back from New York on that first trip and he wanted to stop at a Howard Johnson's to see how American's ate on the road," Tiny recalls. They split a Hojo hot dog.
Over the next eight years, while Tiny continued as bodyguard and chauffeur, he also studied meditation with the Dalai Lama's teachers. He soon began a meditation group of his own in Holden for recovering substance abusers. He began collecting clothing for the homeless and delivering hot meals to the elderly. He helped put together a benefit for the homeless in New York with his friends David Crosby, Mickey Hart, Laurie Anderson and Paul Simon.
This did not escape the attention of the outside world. Bill Moyers once discussed the possibility of doing a PBS special on Tiny's work with recovering substance abusers. Some of Tiny's community work is documented in Ram Dass' book How Can I Help? and Mystic Fire Video's Heart of Tibet, a documentary on the Dalai Lama, has on-camera interviews with Tiny.
He began volunteering his time to help in prisons, and was offered a job as a prison counselor on the basis of his personal experience. Tiny wrote his first and only resume, and got the job as a full-time counselor for inmates in substance recovery at the Massachusetts Correctional Institute in Shirley. Unfortunately, because of health-related problems, he had to give up that job.
Over the years, his relationship with the Dalai Lama developed into something very special. Tiny characterizes it as often childlike.
"He seems to enjoy getting playful with me, I guess because of my size," Tiny says. He suggests the playfulness might make the Dalai Lama feel like a child, providing a missing part of his youth — he became Tibet's incarnate god-king while only three years old.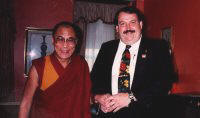 His Holiness, the Dalai Lama,
with His Hugeness,
the Tiny Stacy, in 1989
For those who have enjoyed huge bear hugs from Tiny, the Dalai Lama's feeling is understandable. To be hugged by Tiny is to once again rest as a small child in your parent's arms.
It is obvious that there is a lot of love between the two when they are together. At their New York reunion in the Dalai Lama's private rooms a few weeks ago, H.H. rushed to Tiny and held him forehead to forehead. He took a white cotton kata — a scarf-like token of respect — and tied a knot in the center of it. He draped it around Tiny's neck and said, "This knot unites you and I together forever."
"Which blew me away completely," Tiny recalls. "I've never heard him say anything like that to anybody. I asked my mother, when it's time for me to pass on, that she put it around my neck in my coffin. I figure that'd be a nice little thing."
This Sunday, June 5, from 1 p.m. to closing, there will be a benefit for Tiny at Bowlers, 104 Prescott Street. Like several other such benefits in the past, it will be a celebration, a gathering of tribes, and a reunion — a big hug for a man who's one of the ten best reasons to live around here. It will also most likely be the musical event of the year, with a multitude of performers performing labors of love for the man who gave many of them their first big breaks.
And it's a good cause. Tiny's health continues to decline, creating pressing financial difficulties for a man who would literally give you the shirt off his back. He's suffered from diabetes and related complications for almost 10 years — experiencing two heart attacks, kidney failure and the amputation of six toes.
It was another Sunday ten years ago that Tiny had a party at the Blue Plate for his friends with young children. That afternoon, the late Peter Abbott gave a wondrous performance as Santa Claus's wayward elf—a bit of typecasting. And, like Peter, the elf got into some trouble he couldn't get out of. He needed Santa's help.
Sure enough, Santa came to the rescue.
Tiny, dressed in a huge red suit, shiny black boots and white beard, strode into the Blue Plate with a bag of presents for each of the children.
Every one of those kids saw Santa that afternoon. Their sparkling wide eyes proved it. They didn't notice, but the same sparkles lit the eyes of their parents. Sure, we knew it was Tiny. But his bigger-than-life size, and his overwhelming heart-radiance, made us believe. There are many people from Holden to the Himalayas who still believe in Tiny.
They know that Santa once tended bar in Holden.
Steven Rodman
from WORCESTER MAGAZINE
June 1, 1994